26. September 2022
Eine Investitionsgemeinschaft für den Schutz unserer Ozeane
Deutsche Bank und ORRAA bringen Investoren, Unternehmer und Philanthropen bei einer Konferenz zusammen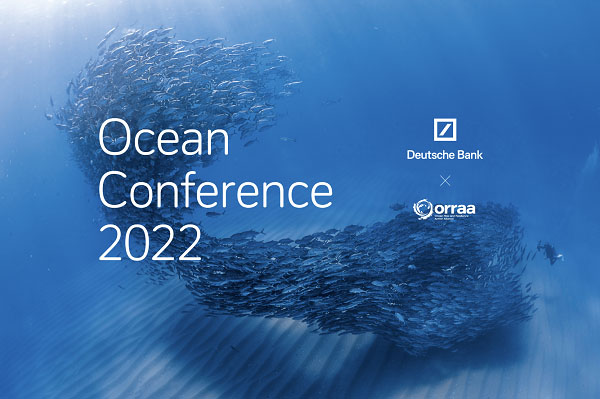 100 einflussreiche Investoren, Unternehmer und Philanthropen treffen sich diese Woche auf Einladung von Deutscher Bank und der "Ocean Risk and Resilience Action Alliance" (ORRAA). Gemeinsam beraten sie bei einer Konferenz auf Mallorca, wie sie die bedrohten Ozeane unseres Planeten schützen können.

Die erste "Deutsche Bank x ORRAA Ocean Conference" soll eine Investitionsgemeinschaft ins Leben rufen, die die sogenannte blaue Wirtschaft für gesunde Ozeane stärkt. Kunden der Deutschen Bank sollen hier zu den Vorreitern gehören. Die Teilnehmenden der Konferenz repräsentieren zusammen ein Kapital von dutzenden Milliarden Euro Kapitalstärke.
Renommierte Persönlichkeiten bereichern die Konferenz mit ihrer Expertise:
Sir Ben Ainslie, Commander of the British Empire, olympischer Segler
Ralph Chami, Experte für Finanzpolitik beim Weltwährungsinstitut
José María Figueres Olsen, Geschäftsmann und Politiker aus Costa Rica; von 1994 bis 1998 war er Präsident seines Landes
Louise Heaps, die beim "World Wildlife Fund" die Abteilung "Sustainable Blue Economy" leitet,
Prof. Callum Roberts, leitender Wissenschaftler des "Future Climate Coral Bank"-Projekts
Lewis Pugh, OIG (Order of Ikhamanga), britisch-südafrikanischer Langstreckenschwimmer und Schirmherr der Vereinten Nationen für die Ozeane
Ihre Exzellenz Ilana Seid, UN-Botschafterin für Palau;
Ihre Exzellenz Aminath Shauna, Umweltministerin der Malediven
Dr. Richard Spinrad, in der US-Regierung Unterstaatssekretär für Ozeane und Atmosphäre; Leiter der US-Behörde für Wetter und Ozeanografie NOAA.
"Fünfundsiebzig Prozent unserer Kunden geben an, dass sie für künftige Generationen etwas Positives bewirken möchten", sagte Claudio de Sanctis, IPB-Chef der Bank und verantwortlich für die Region Europa, Nahost und Afrika. Und weiter: "Gesunde Ozeane sind entscheidend für einen gesunden Planeten. Es gibt also keine bessere Investition in die Zukunft, also die in unsere Meere. Die Deutsche Bank beschleunigt nachhaltige Lösungen für die Ozeane, indem sie hilft, privates Kapital in diesen wichtigen Bereich zu lenken. Das soll eine langfristige Wirkung für künftige Generationen erzielen."
ORRAA-Geschäftsführerin Karen Sack sagte: "Wir müssen die Art und Weise, wie wir Investitionen in die Widerstandsfähigkeit der Meere und Küstengebiete lenken, grundlegend ändern. Entscheidend ist auch, dass die richtigen Vorhaben Zugang zu Investitionen bekommen, vor allem die aus dem globalen Süden. ORRAA konzentriert sich darauf, dies zu erreichen. Die Konferenz, die wir gemeinsam mit der Deutschen Bank veranstalten, ist ein wichtiger Schritt für die Entwicklung der Ozean-Investitionsgemeinschaft."
Die Deutsche Bank x ORRAA Ocean Conference bringt Startups, die sich mit dem Thema Ozean beschäftigen, privates Kapital, Nichtregierungsorganisationen und Experten aus der Meeresforschung zusammen, um Investitionen in das Ökosystem Ozean zu beschleunigen.
Zu den Start-ups, die an der Konferenz teilnehmen, gehören EcoSubsea, Ocean Bottle, Matter, Avant Meats, Biofeyn, Coral Vita, ECOncrete, and Bound4Blue.