5. September 2022
Deutsche Bank ernennt Chefanlagestrategin für die Region EMEA und komplettiert damit das globale CIO-Team
Zeynep Öztürk-Unlu kommt von der Citi Bank New York 
Das Chief Investment Office der Deutschen Bank hat heute die Ernennung von Zeynep Öztürk-Unlu zur Chefanlagestrategin (CIO) für Europa, den Nahen Osten und Afrika (EMEA, ohne Deutschland) für die Privatkundenbank bekannt gegeben. Öztürk komplettiert damit das globale CIO-Team.

Das Chief Investment Office ist entschlossen, die enge Kunden- und Marktanbindung in jeder geografischen Region zu wahren. Mit Öztürk-Unlu Ernennung ist das CIO-Team – geleitet von Chefanlagestratege Christian Nolting – nun weltweit durch hoch angesehenen Investment- und Kapitalmarktexperten und -expertinnen vertreten: Dr. Ulrich Stephan für Deutschland, Zeynep Öztürk-Unlu für EMEA (inklusive Italien und Spanien, exklusive Deutschland), Deepak Puri für Amerika, Stefanie Holtze-Jen für den asiatisch-pazifischen Raum, Markus Müller für ESG-Themen.
"Ich freue mich sehr, dass wir jemanden von Zeynep Öztürk-Unlu Format für die Privatkundenbank als Chief Investment Officer, EMEA, gewinnen konnten. Ihre Entscheidung spricht deutlich für unsere Attraktivität als führende europäische Bank mit globaler Reichweite und für den strategischen Wachstumsmarkt des Bereichs."
Öztürk-Unlu kommt von der Citi, bei der sie 22 Jahre lang tätig war – zuletzt als Leiterin des Bereichs Capital Markets Americas in New York wo sie für Nordamerika und Lateinamerika verantwortlich zeichnete. Davor war sie bei der Citi Private Bank in London als EMEA Capital Markets Head Fixed Income und Head of Central Eastern Europe und für anlageübergreifende Verkäufe in der Türkei auf den institutionellen Märkten bei der Citi zuständig. Zeynep ist gebürtige Türkin und begann ihre Karriere im Firmenkundengeschäft in Istanbul.  
Als CIO für EMEA wird Öztürk-Unlu eine wichtige Rolle einnehmen, unseren Kunden und anderen Interessengruppen, einschließlich Vertretern der Medien, unseren CIO-View zu kommunizieren. Als stimmberechtigtes Mitglied unseres Multi-Asset-Investment-Committees (MIC) ist sie für die Entwicklung unserer Hausmeinung in Europa, Mittlerer Osten und Afrika (ohne Deutschland) verantwortlich. 
"Zeynep Öztürk-Unlu übernimmt eine entscheidende Rolle in unserer globalen CIO-Struktur und bringt eine Fülle von Erfahrungen und Erkenntnisse über die lokalen Märkte der EMEA-Region mit, die unseren Private-Banking- und Wealth-Management-Kunden in der gesamten EMEA-Region zugutekommen", so Nolting weiter.
Öztürk-Unlu berichtet ab sofort an Christian Nolting, globaler Chefanlagestratege.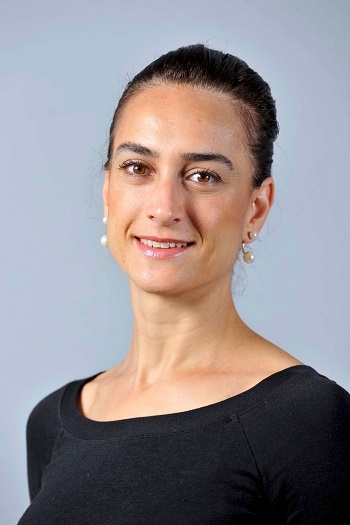 Für weitere Informationen kontaktieren Sie uns gerne:
Deutsche Bank AG                                       
Media Relations                                            
Julia Yesil                                   
+49 (69) 910-39548                                         
Email: julia.yesil@db.com                     
Über die Deutsche Bank
Die Deutsche Bank bietet vielfältige Finanzdienstleistungen an – vom Zahlungsverkehr und dem Kreditgeschäft über die Anlageberatung und Vermögensverwaltung bis hin zu einem fokussierten Kapitalmarktgeschäft. Sie bedient Privatkunden, mittelständische Unternehmen, Konzerne, die Öffentliche Hand und institutionelle Anleger. Die Deutsche Bank ist die führende Bank in Deutschland mit starken europäischen Wurzeln und einem globalen Netzwerk.


Diese Mitteilung enthält zukunftsgerichtete Aussagen. Zukunftsgerichtete Aussagen sind Aussagen, die nicht Tatsachen der Vergangenheit beschreiben, sie umfassen auch Aussagen über die Annahmen und Erwartungen von der Deutschen Bank sowie die zugrunde liegenden Annahmen. Diese Aussagen beruhen auf Planungen, Schätzungen und Prognosen, die der Geschäftsleitung der Deutschen Bank derzeit zur Verfügung stehen. Zukunftsgerichtete Aussagen beziehen sich deshalb nur auf den Tag, an dem sie gemacht werden. Die Deutsche Bank übernimmt keine Verpflichtung, solche Aussagen angesichts neuer Informationen oder künftiger Ereignisse zu aktualisieren.
Zukunftsgerichtete Aussagen beinhalten naturgemäß Risiken und Unsicherheitsfaktoren. Eine Vielzahl wichtiger Faktoren kann dazu beitragen, dass die tatsächlichen Ergebnisse erheblich von zukunftsgerichteten Aussagen abweichen. Solche Faktoren sind etwa die Verfassung der Finanzmärkte in Deutschland, Europa, den USA und andernorts, wo die Deutsche Bank einen erheblichen Teil ihrer Erträge aus dem Wertpapierhandel erzielt, der mögliche Ausfall von Kreditnehmern oder Kontrahenten von Handelsgeschäften, die Umsetzung ihrer strategischen Initiativen, die Verlässlichkeit ihrer Grundsätze, Verfahren und Methoden zum Risikomanagement sowie andere Risiken, die in den von der Deutschen Bank bei der US Securities and Exchange Commission (SEC) hinterlegten Unterlagen dargestellt sind. Diese Faktoren sind im SEC-Bericht der Deutschen Bank nach "Form 20-F" vom 12. März 2021 im Abschnitt "Risk Factors" dargestellt. Dieses Dokument ist auf Anfrage bei der Deutschen Bank erhältlich oder unter www.db.com/ir verfügbar.