Frieze celebrates its 30th anniversary this year, with Deutsche Bank as its Global Lead Partner. It's a collaboration that has grown in both scale and ambition over its 18 years, marked by a mutual passion for art and a shared commitment to supporting creative and curatorial talent.
London in the early 1990s was febrile with creative possibility. The 'Young British Artists' movement, spearheaded by Damien Hirst, was shocking and dazzling the city's cultural scene in equal measure. And two Cambridge graduates, Matthew Slotover and Amanda Sharp, were working on a new magazine that could capture the spirit of the moment. The first issue of frieze was published in 1991 with a Hirst butterfly on the front cover.
Twelve years later, the first Frieze art fair took place in Regent's Park and helped to establish London as a serious player in the contemporary art market. It quickly became known as a place where artists, collectors and the culturally curious could gather to exchange ideas and engage with the most important and rising stars of the art world.
Deutsche Bank joins Frieze for a partnership with purpose
Deutsche Bank instantly understood the purpose and ambition behind the first major contemporary art fair in London and became partner and sponsor in 2004. Reflecting its longstanding commitment to identifying and encouraging artistic talent, Deutsche Bank has supported Frieze as the lead partner of Frieze art fairs ever since, playing an integral role in the birth and development of each new edition; with Frieze Masters and Frieze New York beginning in 2012, and Frieze Los Angeles in 2019.
"When the phone rang the day after the first Frieze Art Fair," recalls Sharp, "it was a member of Deutsche's curatorial team asking if we would be interested in working with them." She describes the bank's support as "a game changer". "Now we had a big ally," she explains, "and a way to do more beyond working with galleries exclusively. Our partnership with Deutsche Bank is our longest, closest and fastest evolving relationship."
Deutsche Bank has been committed to supporting contemporary artists for 40 years through its Art, Culture & Sports department, and the partnership with Frieze underlines the bank's commitment to encouraging new and noteworthy artistic talents from across the globe. "We're proud of the positive impact this partnership has generated – not just for clients and visitors to the fairs but also for emerging artists and the wider communities in which we operate," says Claudio de Sanctis, Head of the International Private Bank and CEO EMEA, Deutsche Bank.
How the Deutsche Bank Wealth Management Lounge
became a favourite Frieze destination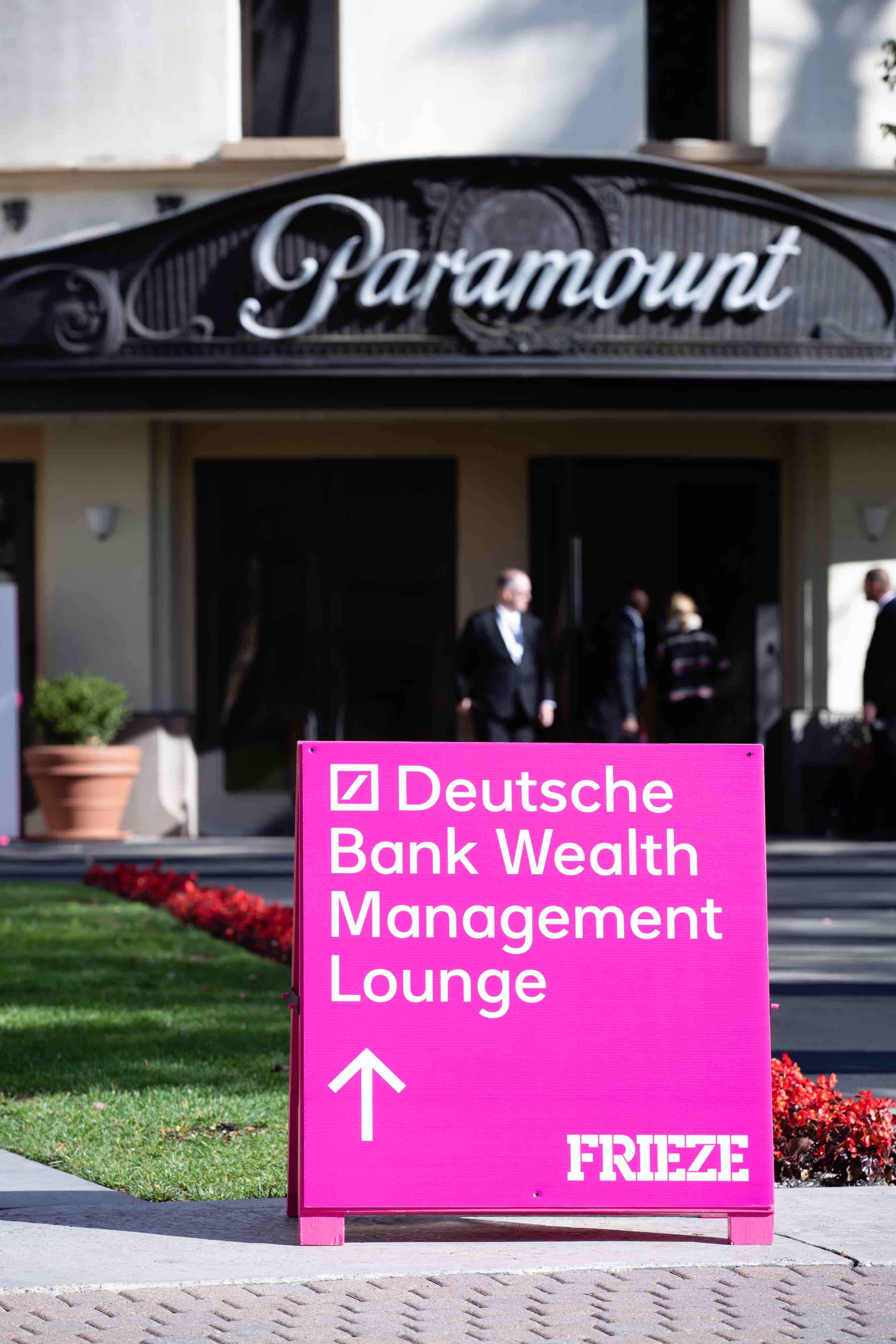 The Deutsche Bank Wealth Management Lounge, which travels with the fair, has also evolved over the years and now welcomes thousands of guests every year. Each Lounge features a world-renowned or rising artist whose work is represented in the Deutsche Bank Collection – established more than 40 years ago and including works by more than 2,700 artists from 40 countries worldwide.
For example, in 2019 in London, Dutch artist and photographer Viviane Sassen transported guests to the grounds of the Palace of Versailles with an exhibition of images from her series 'Venus & Mercury', while other presentations have included a video installation by renowned British artist John Akomfrah, a live drawing project by ruby onyinyechi amanze and One Square Club, which billed itself as 'the world's most exclusive members club' – an installation measuring one square foot by emerging artist Tom Pope.


For the 2018 Lounge at Frieze London, Tracey Emin celebrated the hundredth anniversary of women's right to vote in the UK with a unique project called 'Another World'. Emin curated a display of her favourite works by female artists from the Deutsche Bank Collection alongside a specially made new neon piece by the artist herself. Emin also invited 230 female artists from the bank's collection to create postcard-sized artworks which were then sold at a uniform price in aid of women's charities. The project was a runaway success, raising more than £150,000 for Emin's causes.
 
Why positive impact is a priority for the Deutsche Bank/Frieze partnership
Although the Lounge is an exclusive space for the bank's clients and guests, Deutsche Bank has always sought to generate "positive impact" for the wider community with Frieze's support. In 2017 in New York, for example, while the Lounge hosted works by Andrea Galvani, an Italian-born artist based in New York and Mexico City, the Bank presented its 'Frieze Teens' programme, offering high-school students interested in contemporary art unparalleled access to the field's inner workings. This programme included a studio visit with the painter Nicole Eisenman, who has been recently profiled in The New Yorker, and the screening of a video record of their experiences in the programme at the fair.
This core objective of the Deutsche Bank and Frieze partnership – to nurture and support emerging artists – took on a bold new direction in 2019, in the form of the Deutsche Bank Frieze Los Angeles Film Award. This project offers a unique platform and development programme run by Ghetto Film School to a fellowship of 10 aspiring and emerging filmmakers, culminating with a screening at Frieze Los Angeles. Luminaries from the worlds of art and film, including Sundance's Shari Frilot and artist Doug Aitken, attended the first screening event at the Paramount Theater, where Silvia Lara received a $10,000 prize for a short film about the diverse communities of her hometown in California, which can be viewed here.
 
How Frieze and Deutsche Bank moved the fair experience online
Digital content has become increasingly important to Frieze, especially since in-person events and programming have been restricted by the global pandemic. Rising to the challenge, Frieze New York 2020 went fully online and – with the support of Deutsche Bank – launched Frieze Viewing Room, its first entirely virtual art fair. The Deutsche Bank Wealth Management Lounge became the Deutsche Bank Viewing Room, featuring a virtual exhibition of art reflecting social and political change with works from the Deutsche Bank Collection, and virtual events reaching clients online from all over the world.
Another response to the pandemic was the launch of Art:LIVE: an innovative new way for audiences to connect digitally with the experience offered at the fairs. A selection of interviews, conversations, studio visits and guided tours including Edmund De Waal, Sir Paul Smith, Russell Tovey and Zoé Whitley, was broadcast live exclusively to Deutsche Bank Wealth Management guests, with select content shared with an audience of art-lovers worldwide.
For 2021, Frieze New York returns as a physical fair in a new location – The Shed in Manhattan – accompanied by an edition of Frieze Viewing Room online. In the dedicated Deutsche Bank viewing room will be abstract artworks from the Deutsche Bank Collection, in an exhibition entitled 'Ways of Seeing Abstraction', which is also currently showing at the PalaisPopulaire in Berlin. Art:LIVE will also return, with a programme of curated online content, developed in partnership with Frieze.
Fundraising for emerging curators

Frieze collaborated with Deutsche Bank on the launch of the Emerging Curators Fellowship, marking another milestone for the partnership in terms of creating positive impact in the arts community. This new initiative aims to address racial disparities in the UK visual arts sector by offering paid placements in artistic institutions specifically to UK-based Black and People of Colour (POC) emerging curators, starting out on their career. To fund the scheme, Deutsche Bank Collection artist Idris Khan – who has produced work in situ at the bank's offices in his hometown of Birmingham – designed a limited-edition, sustainably produced face mask, which was sold with proceeds going towards the Fellowship. The reception from Deutsche Bank clients and Frieze fans was enthusiastic, meaning that by early 2021 the initial target was not only reached but exceeded, funding two placements at prestigious UK visual arts institutions: one at the Chisenhale Gallery in London and one at the Baltic Centre for Contemporary Art in Gateshead.

The spirit of the partnership

As Frieze celebrates the 30th anniversary of its founding this year, the organisation is reflecting on its evolution from a place for ground-breaking coverage of artists like Damien Hirst to an influential international marketplace: one that wouldn't have been possible without the dedicated support and collaboration of Deutsche Bank for the last 18 years.
"The partnership between Frieze and Deutsche Bank began the year that I started working at Frieze, in 2004, and it is amazing to think about what we have done together since then," reminisces Victoria Siddall, long standing Global Director for the fairs and now Frieze Board Director. "When we told Deutsche Bank that we were launching a new fair in New York and a historical art fair in London in 2012, they didn't hesitate to expand the partnership. Then, again, when we launched Frieze LA in 2019 they came with us, trusting that each new fair would be a success. The spirit of partnership they have shown us and the innovative and creative ways they have collaborated with us, as well as with artists and charity partners, has played a vital role in this success."
The 10th edition of Frieze New York will take place for the first time at The Shed in Manhattan from May 5-9, 2021 and online until May 14, 2021.
Art:LIVE will be broadcast on Wednesday, May 5 and the Deutsche Bank exhibition 'Ways of Seeing Abstraction' will be accessible in the Frieze Viewing Room from May 5 to May 14.
Visit frieze.com for further information about the Frieze art fair and related content.