Dutch artist Viviane Sassen is known for her visceral portrayals of the human form. Maisie Skidmore meets her to discuss her new photographic series, which will be on display in the Deutsche Bank Wealth Management Lounges at this year's Frieze London and Frieze Masters. 

Tucked quietly into the extensive grounds of the Palace of Versailles, on the outskirts of Paris, the historic Small Stables contain the Galerie des Sculptures et des Moulages. It's a secretive institution, closed to the public except for special events, within which the Palace's damaged sculptures are kept for restoration. For many, the rows of fractured alabaster bodies make for an eerie sight. For Viviane Sassen, discovering them was like stumbling upon buried treasure.
"I started shooting the old sculptures, many of which were broken, missing hands, or legs, or arms, or heads," she says, her voice quickening with excitement. The Dutch photographer's masterful work, which features in the Deutsche Bank Collection, has long distorted and elevated the human form, so the Galerie made for fertile soil when she was granted run of the Palace's grounds to create a new series inspired by Versailles. The resulting work, Venus & Mercury, has been reconfigured for Deutsche Bank's Wealth Management Lounges at Frieze London and Frieze Masters. "It was amazing to see. Usually these bodies don't have flaws, they're beautiful, sculpted to perfection," she says. "Seeing them in decay, ripped apart, or in storage with stickers on them..." It couldn't be more appropriate given the illicit and often disease-ridden underbelly of life at the French court in days gone by. "I loved it."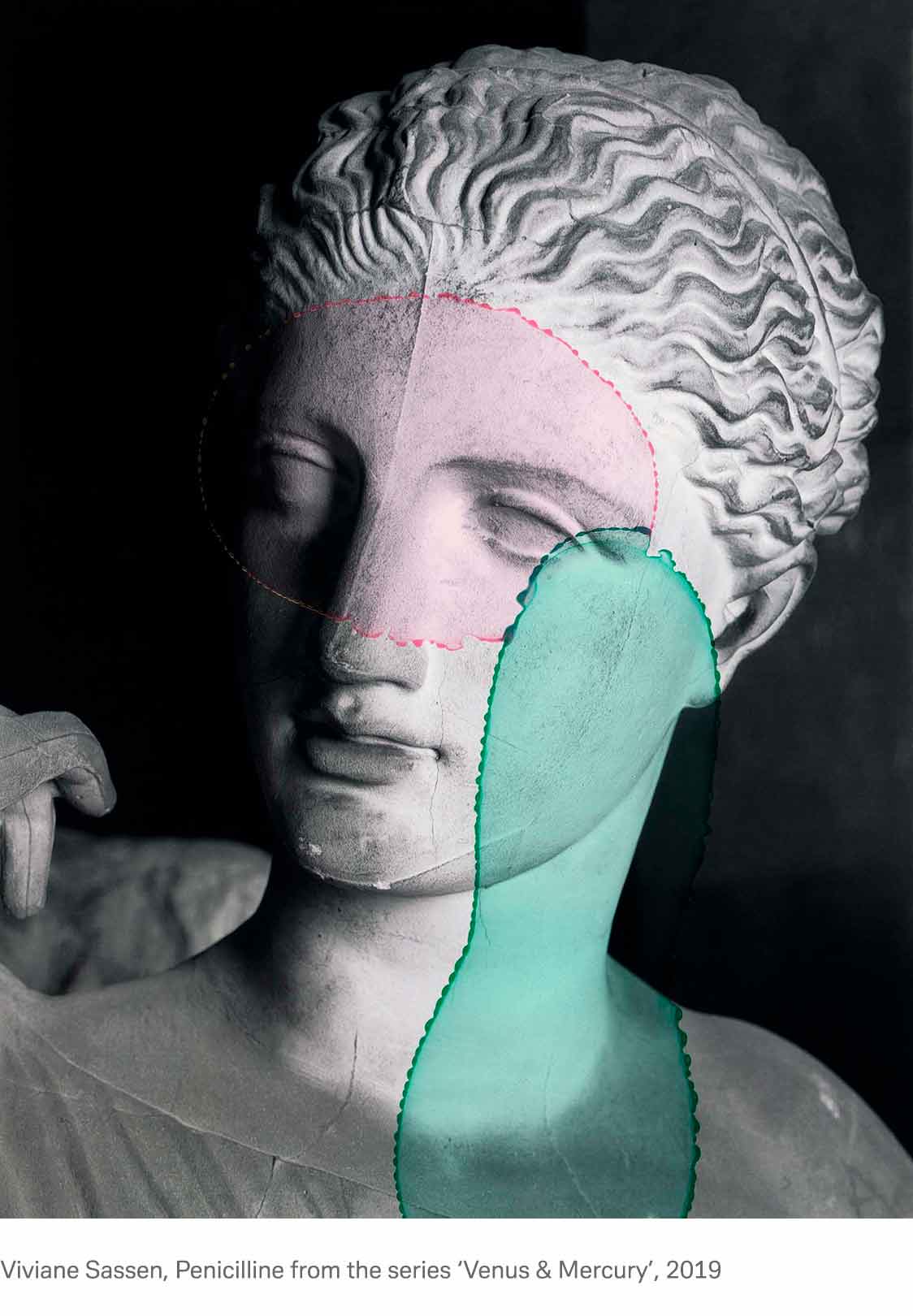 Sassen's fascination with Versailles' regal sculpted forms had been seeded long before, when her parents first brought her to visit the Palace at the age of 13 or 14. Then, coming from her small hometown in the east of Holland, its sensuality came as a pleasant shock to the system. "I vaguely remember being overwhelmed by its beauty, the very first time I visited Versailles," she recalls. "I was especially drawn to all the nude sculptures in the gardens. I think it triggered my imagination on an erotic level; as a young teenager I was just waking up, in that sense. Seeing all these gorgeous bodies..." Her soft, clear voice still sounds somewhat awestruck. "And you're allowed to look at them!"
The human form has long been a source of fascination for Sassen. A sensitive and intuitive child, she was born in Amsterdam, but spent three formative early years in Kenya, where her father, a doctor, ran a polio clinic. Sassen grew up playing with young friends whose bodies looked profoundly unlike her own, marvelling together at their similarities and differences.
Later, back in the Netherlands, when an adolescent growth spurt propelled her slim frame to just under six feet tall, Sassen's curiosity with the body manifested in strange corporeal sculptures which she would create herself, standing naked in front of her mirror. Limbs contorted into unexpected shapes, and twisting torsos closely cropped, have been a recurring motif in her work ever since. Which, of course, serves to set Sassen apart from her peers in fashion photography – an industry whose primary occupation is to reify the human body, and a world she has deftly kept one foot in for many years. She has worked with Dior, Hermès, Missoni and Miu Miu, and has shot editorial fashion images for many magazines. All the while, her personal practice continues quietly but fervently, news of a new solo exhibition or book surfacing with stunning regularity.
How does she switch so effortlessly between the two? It's a question of balance, she says. "To travel in a light and simple way in Africa with my husband and son and, two weeks later, to be in a studio shooting in Paris with a big team, with so many professionals. I feel very lucky that I'm able to go in and out of these very different worlds." The two sides seem to maintain a symbiotic relationship, she continues; the fact that they are so unalike in nature doesn't faze her. "I'm really drawn to opposites," she says. Light and shadow; introversion and extroversion; heaven and earth; they all underpin her practice. She mirrors them in her character, even. "On the one hand, I am, like the Dutch generally, very blunt and straightforward, practical, pragmatic. On the other hand, I'm a dreamer." 

Nonetheless, Sassen's practice is rooted not in logic, but in emotion; it's often only in hindsight that a series' conceptual roots within her own lived experience become clear. Take, for instance, Umbra, a 2014 project about shadow and, more abstractly, a way to wrestle with the idea of death. "It was a kind of revisiting of my past," Sassen says, softly. "My father passed away when I was 22. He ended his own life. That has been a huge influence in my life and also on my work. He was a doctor, and the human body as a form of expression – but also containing many ambiguities and paradoxes – that is always present for me somehow.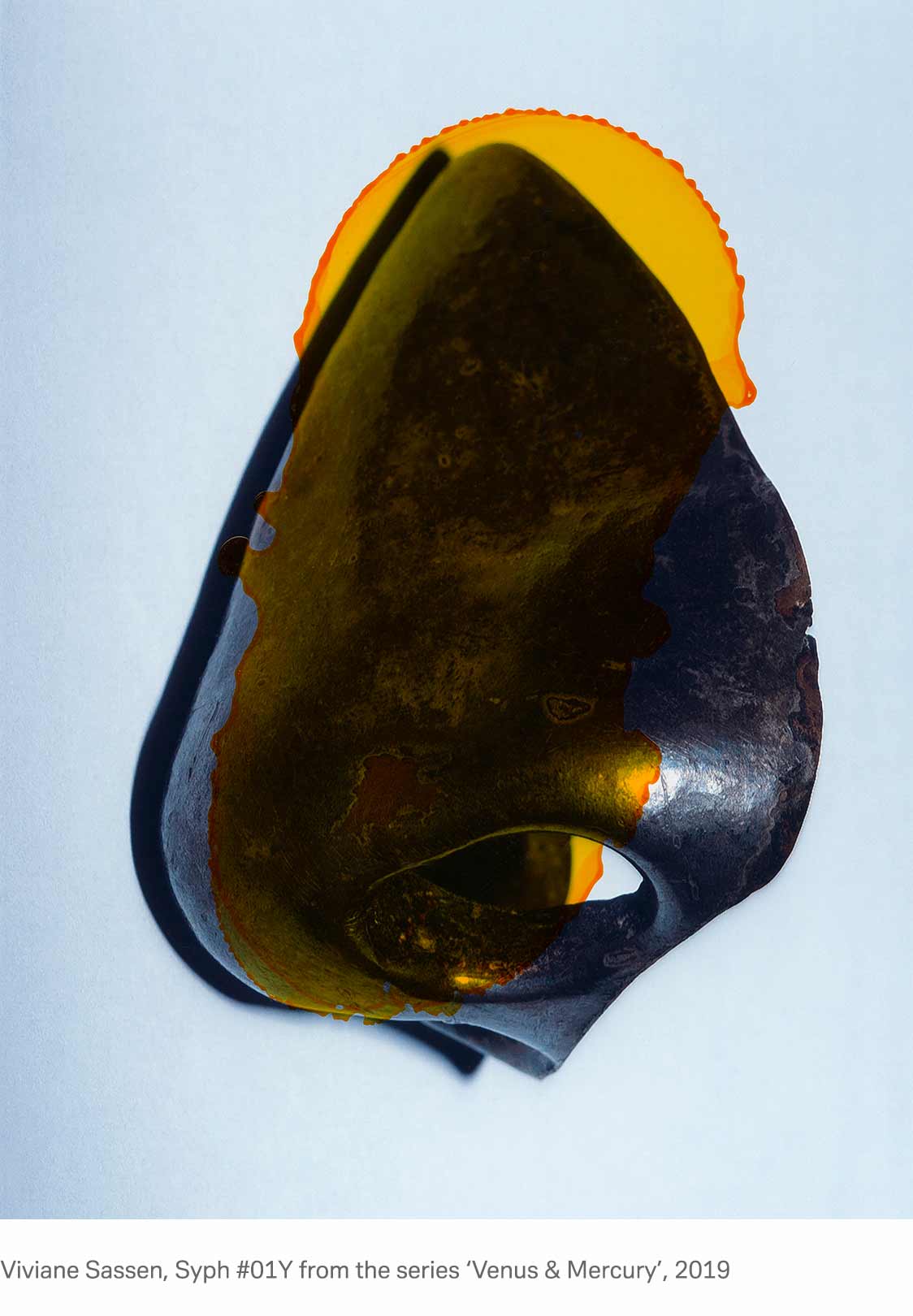 In Venus & Mercury, it comes across again; the erotic, or the body as a sculpture, but also the decay. Fear of sickness, fear of death... "But after I did Umbra, I had this urge to do something about life and fertility, and my own motherhood. Femininity and the organic, as opposed to the more masculine and the abstract." Looking back, she can trace the origins of these ideas to their starting points within her own story, she says. "[But] when I start working on something new, I often don't really know what it is about. Along the way it becomes clear. I think, 'Oh, wait a minute, this has something to do with me!'"
Looking at her most recent body of work through this lens, Sassen has yet to determine the resonance of Venus & Mercury, which extracts five stories from the Palace of Versailles' tumultuous history for examination in image form. The result is at once sensual and sinister, often profoundly poetic. But it's vivid and experimental too; the images are punctuated with paint and pigment, multimedia studies of subjects, scenes, manuscripts from throughout the Palace's past and grounds. 
As is often the case in Sassen's practice, the stories it tells were unlocked in part through the characters she cast to enact them. Stepping outside the Palace's sprawling confines for lunch in a nearby Japanese restaurant, she met Leïla, a French-Senegalese teenager, who seemed an ideal candidate to disrupt the oppressive interior. "She was such a cool girl – she had these grey braids, she was wearing cool clothes, she studied psychology in Paris. So I invited her to be photographed at Versailles, and to bring her friends."
The resulting juxtaposition: of a troupe of young women at ease in denim within the gilded walls, is irrepressible; a modern-day incarnation of the frivolity we can only imagine once took place there. "They went wild doing their own photoshoot while I was shooting them – on their phones, doing selfies, owning the place and themselves in it," she continues. 
Seen through Leïla and her friends' eyes – and, in turn, through Sassen's watchful lens – Versailles' ornate monument to opulence becomes fresh, exciting and relevant once more. "It would be amazing, wouldn't it, if they could gatecrash their predecessors' party?" Sassen says, laughing. We can only imagine what Marie Antoinette might have thought.
Viviane Sassen's series 'Venus & Mercury' will be exhibited at the Deutsche Bank Wealth Management Lounges at Frieze London and Frieze Masters, October 2-6, 2019. 
Main image: Viviane Sassen, Code / Rose from the series Venus & Mercury, 2019. Photographs © the artist and courtesy Stevenson, Cape Town and Johannesburg. All sculptures belong to the Musée du Louvre and Château de Versailles.
A version of this article first appeared in the Autumn 2019 issue of LUX magazine. 
About the Deutsche Bank Collection
Deutsche Bank has been supporting the world of cutting-edge, international artists and their galleries for nearly 40 years and has distinguished itself as a global leader in corporate art programmes, which forms part of the bank's Art, Culture & Sports unit. Through Deutsche Bank's extensive works on paper collection, its partnerships with international museums and sponsorships of world-class performers in music or sporting events, the bank provides clients, employees and the public with programmes and platforms that explore the culture of today. Discover more: db.com/art-culture-sports