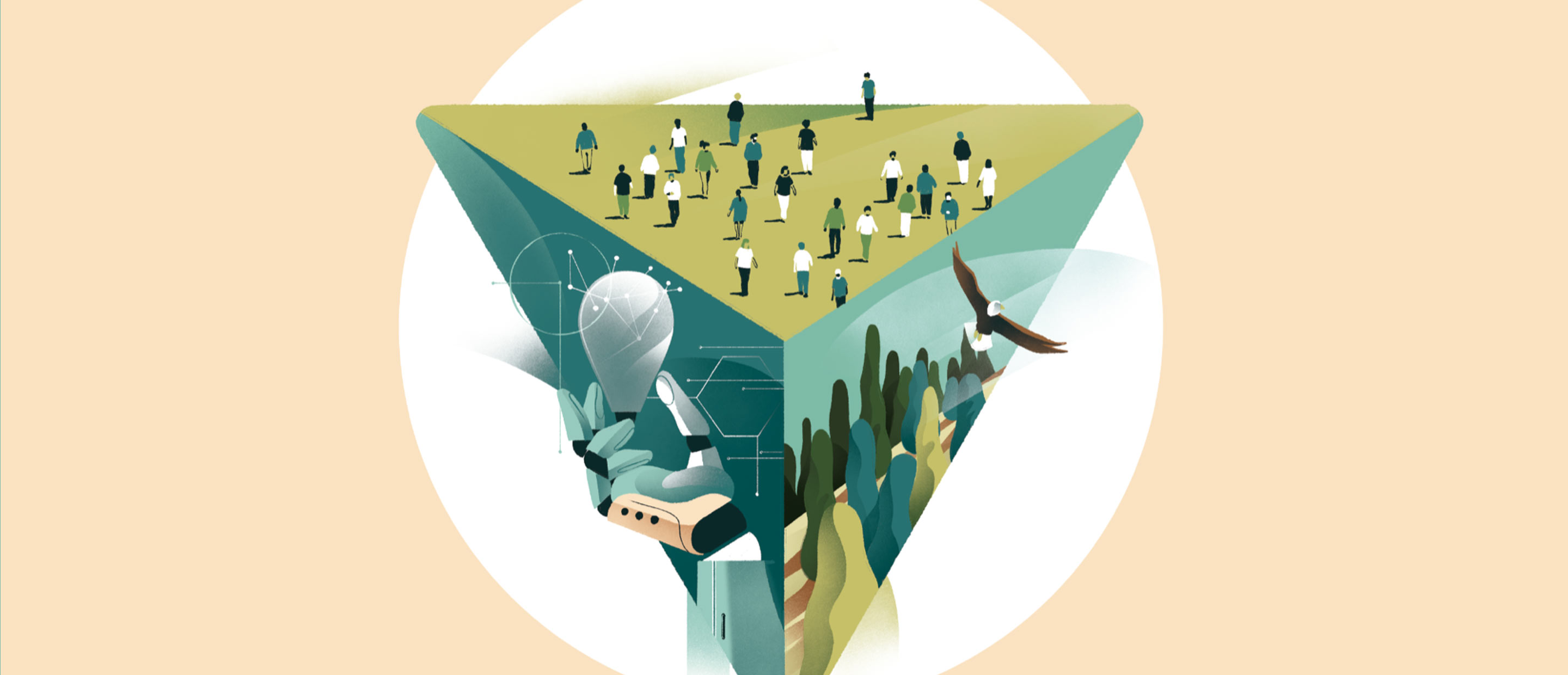 Impact #5: Key investment themes – Diving deeper on ESG
• Technology • Demography • Sustaining the world we live in
A rapidly changing external environment strengthens the case for looking at key investment themes, as investors look for indicators of long-term trends. 
As Figure 14 shows, our key investment themes can be compared within the three dimensions of technology, demographics and sustaining the world we live in – in short, the TEDS triangle. The 2020 pandemic has re-emphasised the importance of each of these dimensions. Technology plays an ever-increasing role in many sectors and in our lives – from healthcare through to home working. Investors are also increasingly aware of demographics, which seem likely to have a growing impact on both business and government priorities (and thus spending and investment decisions). Meanwhile, growing interest in sustainability is another pre-existing trend accelerated by the crisis. Of the ten key investment in Figure 14, we think that cyber security, 5G, healthcare, millennials, resource stewardship and the blue economy could prove particularly interesting in 2021. 
Our ten themes can be summarized as follows:
Technology 
Cyber security is a prerequisite in a globalized world – for example to protect critical infrastructure, connected mobility systems and digital healthcare systems as we respond to pandemic stress. In the new ever more digitalized work environment, cyber security is essential for companies, individuals and governments.

 

Smart mobility goes well beyond autonomous driving to bring in traffic management and infrastructure. It is a necessary response both to higher levels of traffic and changing patterns of urban living. As a result, it will have implications not only for car and components industries, but also for energy provision and other sectors.

 

Artificial intelligence is the quest to "intelligently" automate repetitive tasks, anticipate human action/preferences, and this approach problem solving in a disciplined manner will create multiple investment opportunities. Artificial intelligence has an impact on multiple sectors, including smart mobility.

 

5G will not only help us work and communicate more effectively, but also "big data" use and boost industrial productivity in many areas – including healthcare, automotive, retail, education, and entertainment industries. Its capabilities will therefore go way beyond the scope of previous network "generations" and expand into new industries and uses. 
Demography 
Infrastructure is a key driver of long-term growth as well as a means of more immediate fiscal stimulus as we "build back better". Infrastructure needs to reflect changing living as well as working patterns and will have an important green component. Infrastructure includes multiple components from roads and railways to electricity grids, water supply or schools and many more. It will shape the world we live in tomorrow.

 

Healthcare is a vital component of society, as underlined by the coronavirus crisis. Ageing societies need reliable healthcare systems. Increasing demand and treatment innovation are certain to create multiple investment opportunities.

 

Millennials (born in the 1980s and 1990s) have different consumer habits to their elders and have accelerated the move to a digital and sharing economy. With the passage of time, their relative economic and political importance has increased and their investment as well as spending patterns will affect both economic and policy evolution. 
Sustaining the world we live in
ESG (environment, social, governance) investment in general has continued to increase, with growing realization of the challenges we face. Government action has complemented investor interest, with younger generations a driving force.

 

Resource stewardship (the management, use and conservation of scarce resources) remains key in a world of rising population and increasing wealth. Rising middle class populations and urbanization create challenges for investment to address. Tighter regulation by authorities and an emphasis on "greening" the waste sector ("recover, recycle, reuse and reduce") is already evident and should lead to greater capital expenditures.

 

Blue economy is the effective management of the earth's aquatic resources and is essential for preserving biodiversity and limiting climate change. Financing models are changing, with technology giving us greater understanding of how it works. 

Our full CIO Insights report "Annual Outlook 2021: Tectonic shifts" includes our new macroeconomic and financial market forecasts for 2021. Please refer to the Important Notes at the end of the report for disclosures and risk warnings.
To download a printer-friendly PDF of the full report, please click here.
To view a mobile-optimised version of the full report, please click here.
Past performance is not indicative of future returns. Forecasts are not a reliable indicator of future performance. Your capital may be at risk. Readers should refer to disclosures and risk warnings at the end of this document. Produced in December 2020.

In Europe, Middle East and Africa as well as in Asia Pacific this material is considered marketing material, but this is not the case in the U.S. No assurance can be given that any forecast or target can be achieved. Forecasts are based on assumptions, estimates, opinions and hypothetical models which may prove to be incorrect. Past performance is not indicative of future returns. Performance refers to a nominal value based on price gains/losses and does not take into account inflation. Inflation will have a negative impact on the purchasing power of this nominal monetary value. Depending on the current level of inflation, this may lead to a real loss in value, even if the nominal performance of the investment is positive. Investments come with risk. The value of an investment can fall as well as rise and you might not get back the amount originally invested at any point in time. Your capital may be at risk.

The content and materials on this website may be considered Marketing Material. The market price of an investment can fall as well as rise and you might not get back the amount originally invested.  The products, services, information and/or materials contained within these web pages may not be available for residents of certain jurisdictions. Please consider the sales restrictions relating to the products or services in question for further information. Deutsche Bank does not give tax or legal advice; prospective investors should seek advice from their own tax advisers and/or lawyers before entering into any investment.